Customer Communication
Customer Center
※Please make sure to dial the correct number
Notice & Bill
How to Read the Notice of Electricity Consumption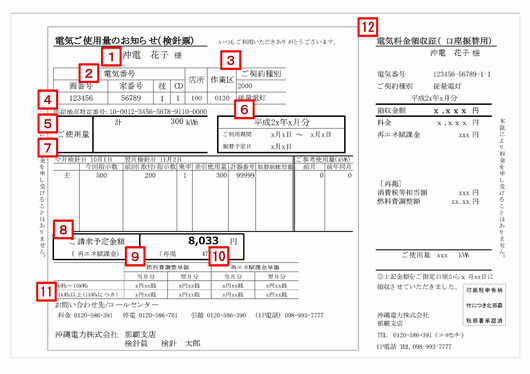 How to Read the Notice
Customer name
Customer number
Contract category
Location number
Electricity consumption
Billing period for the month indicated and Planned date of account transfer
Meter-reading date
Amount to be billed
Discount/Extra charges based on power factor
Renewable Energy surcharge
Telephone number of OEPC Customer Center
Receipt for payment of electricity bill through account transfer
We will check the meter installed at your home every month and send a "notice of electricity consumption".
The notice of electricity consumption also serves as a receipt if your electricity bill is paid via the account transfer system.
The notice of electricity consumption indicates your monthly electricity consumption and the amount to be billed. This is not a bill, so it cannot be used to pay for your electricity.
Payment Options
How to Pay Your Electricity Bill
You can pay your electricity bill via the account transfer payment or credit card payment. If you wish to use these payment method, please see below for instructions on how to file an application for account transfer.
Otherwise you will be required to pay your bill using a payment voucher.
1. Account transfer payment
Monthly electricity charge will be paid automatically out of your bank or post office account.
Your application for this payment method will be accepted at the following locations:(We will send you an application form upon request.)
• A bank or a post office where you have your own account
2. Payment by voucher
We will send you a payment form. You can use this prescribed form to pay your electricity bill at the following locations:
• The nearest post office
• The nearest bank or convenience store where the payment of electricity bills is accepted
3. Credit Card Payment
This is the way that your credit card company pays your monthly electricity bill for you, and then, charges you for credit card charge.
You can apply for this payment method at the OEPC customer center