Message from the Management
The Okinawa Electric Power Company, Inc. (OEPC) Group aims to design and propose new valuethrough services to support both corporate and individual customers through its core business as acomprehensive energy supplier and to become a unified business group that grows and develops handin-hand with the community.
In the electric power business that forms the mainstay of the Group's operations, the full liberalizationof the electricity retail market was implemented in the Okinawa region, in the same way as on mainland Japan, in April 2016. With regard to the legal separation designed to neutralize the power/distribution sector planned for April 2020, the Group will continue to maintain its integrated powertransmission system by being positioned as an approved general power transmission and distribution business operator able to engage in the retail electricity business and power transmission business.
From an income and expenditure perspective, amid forecasts that harsh conditions would continuethrough fiscal 2016 and beyond—attributable to a slowing trend in electric power demand growth,changed fuel composition and greater levels of depreciation and amortization expenses—improvements in profitability and capital efficiency are recognized as business challenges. In addition to examining and implementing initiatives, such as drastic cost reduction measures and business streamlining measures, without loosening the reins on the streamlining measures adopted so far, we will redouble our efforts in sales promotion to secure electric power demand and build a robust earnings base.
With regard to measures to curb global warming, we will engage with the electric power industry as a whole to achieve CO2 emission reduction targets based on national energy mix decisions. We will also engage in efforts toward the realization of a low-carbon society by the steady operation of the Yoshinoura Thermal Power Plant, which for fuel burns liquefied natural gas (LNG), the most potent means. Concerning sources of renewable energy, OEPC will clarify medium- to long-term issues on the basis of policies adopted elsewhere in Japan and continue to respond appropriately on the assumption of stable supply.
In addition, OPEC will implement measures to ensure a more timely recovery in the event of a typhoon, put in place facilities that are resilient to natural disasters, including earthquakes and tsunamis,and engage in the building of a resilient system for rapid recovery in the aftermath of a disaster.
Engaging in activities that ensure the elimination of all accidents and disasters is an absolute priority and responsibility of any corporate entity. In this context, OEPC recognizes the paramount importance ofmaintaining safety throughout every facet of its business activities. Working in unison with partner companies, the OEPC Group will adhere strictly to a policy of safety management and work diligently to foster a safety culture while gradually and conscientiously building on its experience of standard procedures in fulfilling its mission of the stable supply of electricity.
Since the formulation of the OEPC Group Medium- to Long-Term Business Plan in July 2009, the business environment in which the Group operates has been undergoing significant change, including the entry into an era of full-scale competition following the full liberalization of the electricity retail market.
Under these circumstances, focused activities for what we aim to be as a "corporate Group that will continue to be chosen by its customers irrespective of the business environment" are cited in the OEPC Group Medium- to Long-Term Growth Strategies formulated in April 2016. Mentioned together with the focused activities of active development of total energy services (electricity and gas sales expansion)and fundamental reform of the cost structure are financial targets set toward improvements in profitability and capital efficiency.
We will continue to engage in a unified manner to resolve a variety of business issues to enable theOEPC Group to grow and develop sustainably in the years to come.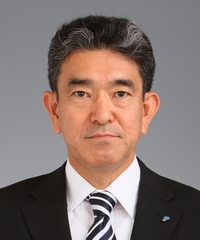 Mitsuru Omine

President