OEPC's Approach to Zero Emissions
- Towards 2050 Net-Zero CO2 Emissions -
As an integrated energy company, global warming countermeasures are one significant management issue which must be prioritized, and we have actively worked on such global warming countermeasures up to this point.
At the same time, the social demand for countermeasures against global warming has been increasing in recent years, as evidenced by the country's 2050 Carbon Neutral Declaration.
In order to fulfill our corporate social responsibility, we have compiled a long-term guideline, "Okinawa Electric Power Company's Zero Emissions Initiative: Toward Net Zero CO2 Emissions in 2050," to promote further efforts.
To achieve net zero CO2 emissions in 2050, we have formulated a roadmap for the next 30 years and will implement a variety of measures, with two directions for achieving net zero CO2 emissions: " Make renewable energy a mainstay " and "Reducing CO2 emissions from thermal power".
We will contribute to the society by building a sustainable energy system, utilizing the technologies we have accumulated so far and introducing new technologies to achieve stable energy supply and countermeasures for global warming simultaneously.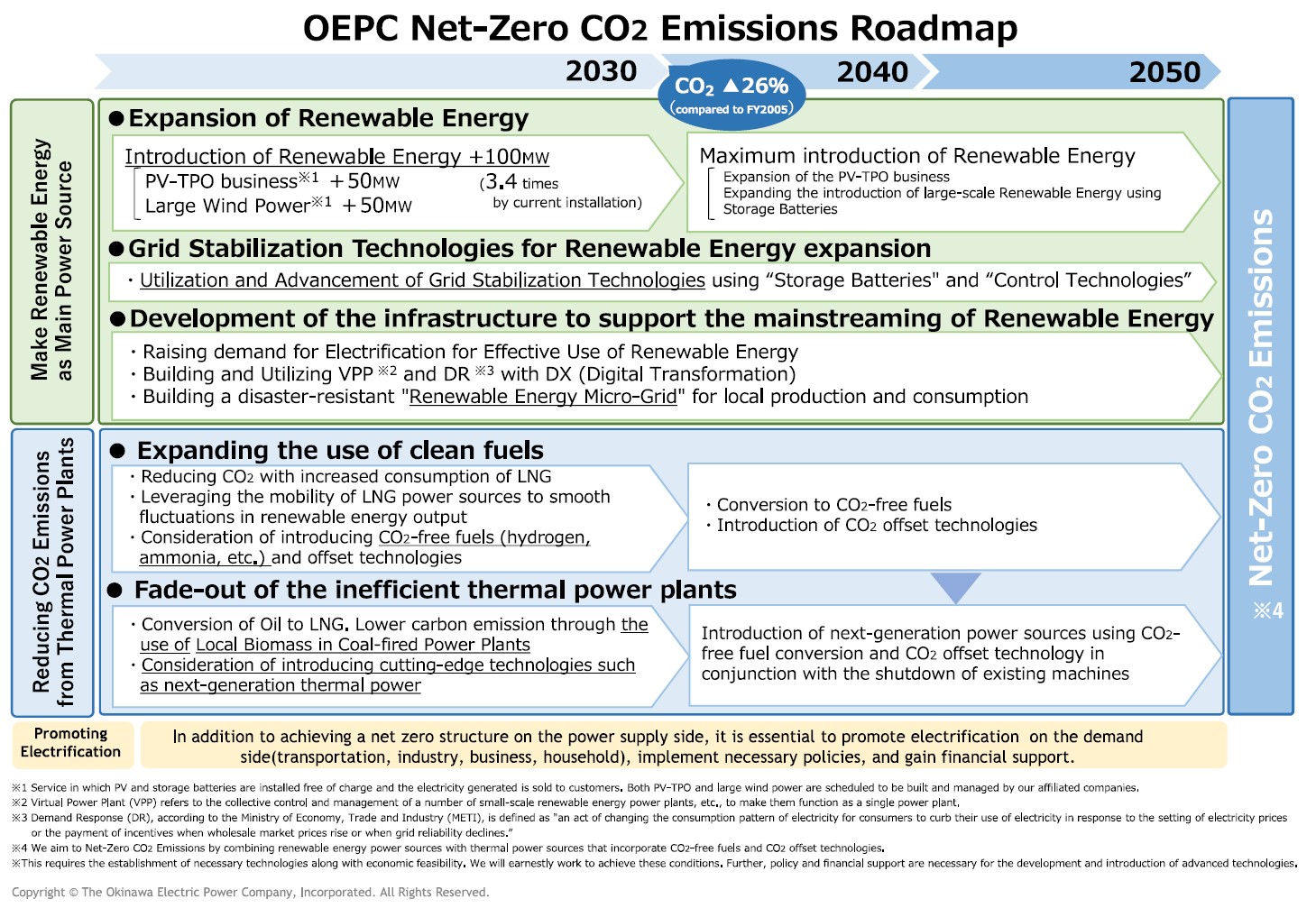 Related initiative:
Our company participates in the initiative called "Challenge Zero".1
1 "Challenge Zero ("Challenge Net Zero Carbon Innovation")" is a new initiative by Keidanren (Japan Business Federation), in collaboration with the Japanese government, aiming to proactively publicize and support actions to create innovation taken by companies and organizations towards a "decarbonized society" which the Paris Agreement (the international framework on climate change) sets as the long-term goal.